So, you know how
in my last post
I said, "I do not own, nor have I ever owned, a horse"?
Um, yeah. Scratch that.
Me and Maggie, or Double R's Magic Carbon, if you're not into the whole brevity thing
I have spent the last few months dating an exceptional gentleman who happens to be part owner of a farm and full owner of a horse. Last week, as I was slathering stain on his wooden deck in a somewhat disgruntled fashion, he turned to me and said, "Would you want a horse that's a few hands shorter than mine?"
Yes. The answer was yes. I did.
And now I own a horse for the first time ever.
This is my googly, excited face.
And even though I'm a Kentucky girl, I'm not really a rural person. Spending time on a farm has been pretty substantial life change and, more importantly, sartorial adjustment.
As you know
, I didn't have to acquire any cowboy boots. But I'm pretty impractical as a rule and finding appropriate clothing has been somewhat of an issue. I told my gentleman friend when we were first dating that he would have to be blunt about whether or not I'm appropriately equipped for whatever country adventure we were undertaking.
He has so far thoroughly discouraged wearing dresses to go horseback riding.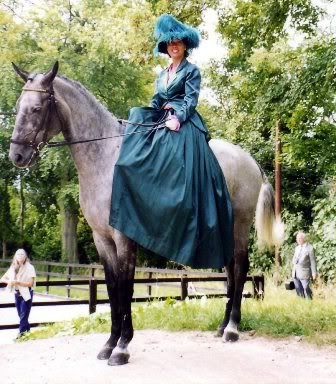 This young lady and I disagree.
And while still fine-tuning my pastoral style, I have found outfits that function to bridge my affinity for downtown hipster clubs and my increasing propensity to haunt hillbilly barn dances.
Let's discuss!
dress: Anthropologie; belt: Natural Bridge Trading Post
Ahhhh yes. The denim dress. This one was plucked from the clearance bin of my local Anthropologie so you can be sure that not only was it once outrageously priced, it is also beautifully designed and good to go for work, play, farm, or dance party.
Bonus points, I feel, for
the trucker belt
.
dress: vintage Betsey Johnson; ruffle slip: Free People; necklace: A Gal Named Cinda Lou; clogs: Free People
I wore this little number to my daytime office job. The only change needed when I headed to
Rabbit Hash
?
Dogs love blogs. It's a fact.
Cowboy boots. How'd you guess?
poncho: Rabbit Hash General Store; dress: Free People;
necklace: vintage and A Gal Named Cinda Lou; boots: thrift
I've also found that ponchos are a good all-around accessory. When you're in an art gallery, your poncho says, "I support hand-crafted textiles and enjoy the volume that this piece brings to my silhouette." When you're at a bonfire, it screams, "Holy crap, I don't want to freeze to death!"
At the Big Bone Lick State Park Salt Festival... Go ahead and giggle. It's funny.
Ponchos also go well with roasted corn and hot apple cider.
Bodysuit: Tigerlilly; skirt: Free People; belt: thrifted; boots: thrifted
I've also been donning a number of long, flowy skirts. They are cool as hell right now and also play an important role in keeping my girl parts covered when I'm hiking through the hills or crafty flea market.
We Haltermons are hearty hikers.
Long skirts, ponchos, boots, and denim dresses: My short list for crafting outfits that can take you anywhere and ensure you're happening and somewhat appropriate.
Any other suggestions?
You can find a rundown of my latest adventures in my personal blog,
Pump Up the Frump
, and judge for yourself how apropos my gear is. I go from an 80s party to a historical day trip to a country bar, gay pride parade, and costume party...